« In his circular of 1887, Joseph-Thomas Rousseau, painter, considered the decoration of this chapel as the most important enterprise of his career.
Saying that, he had not yet foreseen decorating the church of Arthabaska or the chapel of Saint-Césaire where his work was to be just as important, if not more so, considering the scope of the theme as well as the number of paintings. Considering the three sites, the Precious-Blood chapel is undoubtedly where the greatest number of alterations have occurred. It is difficult to know exactly what the decorations were like at first; but we do have a few photographs in that regard. We will therefore try later to distinguish the original project and the actual state of the chapel along with the alterations made from year to year...» [FULL TEXT]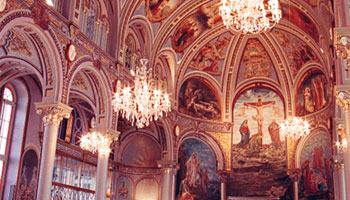 Click on the picture to enlarge (107k).
Give yourself a gift. Discover the invisibile
through the analysis of the thirty-four pictures
offered to your gaze, in this book.
This work is on sale for Only $20 + postage, at :

Monastère du Précieux-Sang
2520 rue Girouard Ouest C .P. 186
Saint-Hyacinthe QC J2S 7B4